It's the first episode of Cinema Smorgasbord, and we're kicking off with WE DO OUR OWN STUNTS: A  JACKIE CHAN PODCAST! This podcast is, as you might have guessed, devoted to the life and work of actor JACKIE CHAN, including his vast filmography, his recorded work, cartoons, video games and so much more!
On the premiere episode we go back to 1971 for Jackie Chan's very first starring role: CUB TIGER FROM KWANG TUNG (a.k.a LITTLE TIGER OF CANTON). Jackie was only 17-years-old when he appeared in the starring role of Hsiao Hu, but had been acting regularly since he was a child; even appearing in Shaw Brothers classics COME DRINK WITH ME and A TOUCH OF ZEN!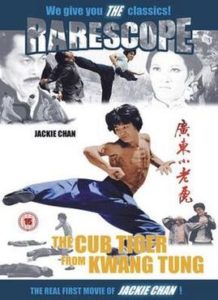 But that's not all! We follow it up with a discussion of MASTER WITH CRACKED FINGERS, a re-edited version of CUB TIGER that added in 50% new footage using a Jackie Chan double and appearances by Chan regulars Yuen Siu Tien and Dean Shek.
If you want to support Cinema Smorgasbord, go ahead and follow us on Twitter @CinemaSmorg or check out cinemasmorgasbord.com for all our latest episodes.
Here's the rare footage of the Seven Little Fortunes from the episode of I SPY entitled "No Return On Damaged Merchandise".
Podcast: Play in new window | Download