On a very special episode of JodoWOWsky we're joined by JODOROWSKY'S DUNE director Frank Pavich for a freewheeling conversation covering his first meeting with Alejandro Jodorowsky, the development of the documentary, his influence on Jodorowsky's career over the past ten years, his future projects and so much more!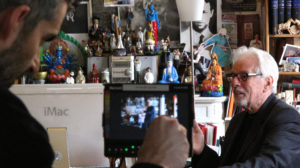 Check out Frank Pavich on Twitter @FrankPavich, and be sure to watch his two documentaries: N.Y.H.C. and – of course – JODOROWSKY'S DUNE.
And, heck, why not check out the episode of CINEPUNX featuring Frank, hosted by our very own Liam O'Donnell!
Podcast: Play in new window | Download