Phillip Hammer (John Stockwell) and Marlowe Chandler (Michael Dudikoff) are a couple of goofs who find themselves wandering a strange new post-apocalyptic world after spending 15 years in a bomb shelter in Albert Pyun's wild, new wave-y action comedy RADIOACTIVE DREAMS!  Featuring a pounding soundtrack, lizard people, swearing kids, and – of course – the great George Kennedy, it's our main topic on this episode of George Kennedy is my Copilot which also features digressions on what celebs we might be friends with, Sinex nasal spray, the untimely death of Gilbert Gottfried and SO MUCH MORE. Check it out!
And be sure to pick up a copy of Radioactive Dreams: The Cinema of Albert Pyun by Justin Decloux over at the Golden Ninja Video website!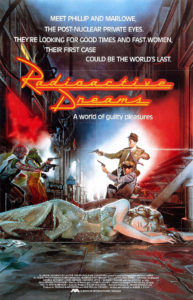 Check out Sarah Jane on Twitter @FookThis, as well as the White Slaves of Chinatown YouTube page. And check out her writing over at the Austin Chronicle right here.
Podcast: Play in new window | Download